Virgin women were once praised for their virtue. Temptation may have been just as nigh in traditional times of the past as it is today. The Bible proffered a solution to sexual "immorality" as they called it: marriage. It is this curse word that scares off most American men today from dating a virgin. They don't want to wait until marriage to have sex. I know, it's difficult, but only if you are a slave to your sexual appetite and have no control over yourself, which would describe the modern male who uses pornography and is surrounded by women in yoga pants and tales of women hooking up like the sluts that they are without discretion. I don't blame them for wanting a piece of the pie, because I was just like that once upon a time.
But some of these men—a growing minority—find out that these women have no morals. They cheat on men and lie about their partner count. You find out that instead of having had one past partner, she had seven instead! Good golly! Some of these men then complain that women have no morals, while simultaneously, and hypocritically so, having none themselves. They sought after loose women, then complained about their looseness and dishonesty?
Virgin women are at a disadvantage in the dating scene today. They aren't as inclined to show off their cleavage and buttocks on Instagram to attract thirsty men and may not be as "sexualized." Once a woman becomes sexualized, she sees how her sexuality can be used to garner attention and boost her career. Sex appeal once upon a time was used to attract men. But since women don't need men anymore in the same capacity, that appeal is garnered for the selfish interest of the female. Virgins however, are not like this.
Men should seriously consider dating, if not courting, virgins today, perhaps even exclusively to solve their relationship problems. The benefits of such a partnership are profound and I will outline them below.
Less Complaining About Crappy Women
Men who date pure, honest and virtuous virgins (remember, there is far more to virtuousness than being chaste, as discussed here), will not shame men or emasculate them on a regular basis as promiscuous women do. That's another can of worms, but any man who is in an open relationship with a woman is already emasculated in my opinion, and is possibly a cuckold. A woman that cheats is emasculating her partner. And jealousy can often arise over past relationships, making men feel less masculine. Although it will be argued that men should just be less insecure, I don't think it is unhealthy to feel more masculine or secure when you date a virgin. If the goal of a relationship is a healthy marriage and family, anything that can be done to increase security is a plus.
A man should own his woman, and a virgin offers a better chance at this. Of course, you're not screwed if the woman is not a virgin, but by choosing to exclusively date virgins, you are increasing your chances of this happening.
Of course it is possible that a virgin could cheat on you. That's why it's important to date Islamic or Christian virgins, or ones from a very strong conservative country like Azerbaijan, where despite being atheist, it is not uncommon for women to remain virgins.*
*This comes from my own viewers in Azerbaijan, which amount to just a few but they have told me the country is very conservative and my YouTube videos were shown on national television there.
But considering that men think it's the new normal for women to cheat and be dishonest, it's important for men to demand more from them, especially if they consider engaging in a long-term relationship with one. In my opinion, there is no point in being in a long-term relationship with a woman if you are not going to be married to her, because marriage is an act of committed partnership for life with the aim of raising children, and sex is an act of procreation resulting in a family. Thus, you should choose a partner who you can stand for the rest of your life. Modern dating practices do not create this opportunity. Modern dating allows you to experience pleasure—but not responsibility—too early into a relationship. Courtship forces you to understand how you could stand your partner, and once that is proven, finally enjoy each other. It is not normal to enjoy sex without producing an abundant number of children. Today's normal is not healthy.
Since we have deviated so far from religion, these ideas may sound wild, but by choosing virgins, we will choose women who have better values not just for motherhood, but for making you feel like a man, as the two are related. Thus, if men exclusively date virgins, I doubt they will complain about women as much.
Lower Chance of Divorce
The chances of divorce will be very low if men marry virgins. It is needless to say that both male and female virgins are less likely to end up divorced. A religious virgin woman should not see divorce as an option in the first place. Can virgins still cheat? Of course. That's why you must control other factors in your relationship too. You must put her in her place as I have discussed previously here. That might mean preventing her from working under other men. So many relationships go sour because friendships form in the workplace and the amount of time and attention another man spends on your wife becomes greater than the amount of time you spend with her!
I believe for this reason, relationships that sour due to women working aren't a sign that her ex-parter wasn't giving her enough attention, but that work interfered with managing the bond between husband-and-wife. I do not believe this supports a theory of non-monogamy being a norm for the human species, but rather that two people must love and cherish each other and have the opportunity to do so regularly for the relationship to thrive. This is one reason why it is posited that without frequent sex, the relationship might fail. I am not particularly fond of this statistic and do not endorse it because I believe before the sex is the feeling of bonding and love that is the actual glue keeping things together.
But indeed, couples can spend time together and end up sexless as well; nevertheless, the chance of divorce will be greatly reduced if a woman is a virgin before marriage. Of course, her ability to pair-bond with you might be greater as well. A small study from the Institute of Family Studies has confirmed that female virgins have the lowest chance of ending up in divorce, but for some unbeknownst reason, having two partners increases the chance quite significantly. The chance of divorce was highest for women with 10 or more premarital sexual partners, but only for data coming from the 2000's, whereas in 1980, having a high partner count reduced the risk of divorce, but not as much as being a virgin.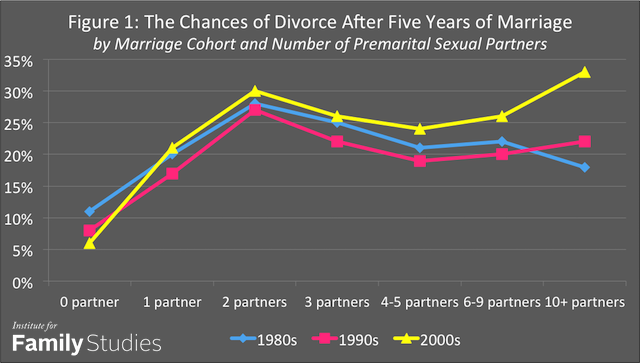 Please, do not mistake the new normal for a healthy normal. In the 1970's, it was rare for women to have had more than ten premarital sexual partners. Today however, having a higher sex partner count is so normalized, we do not consider the negative ramifications. Quoting the IFS article:
…the number of future wives who had ten or more sex partners increased from 2 percent in the 1970s to 14 percent in the 2000s, and then to 18 percent in the 2010s. Overall, American women are far more likely to have had multiple premarital sex partners in recent years.
Of course, divorce happens for reasons other than cheating, like abuse, domestic violence, and "falling out of love." And cheating doesn't necessitate a divorce, but it's such a great dishonor to a man that I do not think relationships should be reconciled. However, a guest on Make Society Great Again, my podcast, stayed together with his wife of over 10 years after finding out that she did indeed cheat on him with a Chad when he left for boot camp (episode 17). He found out eight years into their relationship.
A woman who is a virgin before marriage and has strong values may be more likely to want to work through difficulties in a relationship. She doesn't have a "the grass is greener on the other side" attitude like Mikhaila Peterson may have had. Today, people don't want to work through things. They're too willing to move on to the next best thing.
She Is More Likely To Be Religious
We men must stop being afraid of religious women. I am not religious myself, but I am not afraid anymore of raising Christian children. Why? Because it's a tried and true system and way of thinking that can benefit many people in today's society. I do not see it as a form of indoctrination, but rather a lens with which to see the world. If men are to date virgins exclusively, there's a strong chance they will find mostly religious women as well to meet the criteria. The same study from the Institute of Family Studies confirms this as well:
…women who marry as virgins are far more likely than other women to attend church at least once a week. It's also noteworthy that virgin marriages increasingly became the domain of religious women between the 1980s and 2000s—and during the same years, the divorce rate for virgin brides continued to drop.
Another benefit of being religious is that she will be passionate about raising your children with good values, and protect them from degeneracy. Even Jordan Peterson's daughter ended up like many modern women, posting pictures of herself nearly nude on Instagram right after divorcing her husband of one year,* whom she has a daughter with. This wouldn't be possible with women who are religious. They simply follow a different moral code of conduct and they don't have sex until marriage.
*It is noteworthy that she left her husband around the same time she started gaining publicity for her diet because of her father. Did her hypergamous instincts kick in because of it?
She Is Less Likely To Believe in Female Liberation (and Other Feminist Nonsense)
The virgin is not sexually "liberated." I find among the New Age hippie types that they love this idea of being free and untethered. They feel like a butterfly or something spacey like that. But a traditionally conservative virgin wants to be tethered to a man. Again, she must be owned by a man, in full submission to him. Feminists say you can be feminine and still be feminist, but how is that possible if they believe in being unchained and untethered? The man is your boss, not you silly.
Hippie or not, modern women participate in their sexual liberation when they go to college and leave their homes. Traditionally, women left their home only to live with their new husband. Now they leave their home to enter the sexual marketplace, binge drink, and then write memoirs about how they were raped in an alley after blacking out from being an alcoholic and not remembering a thing (the story of Brock Turner's accuser, who denies the involvement of alcohol in her case).
Personally, I do not understand young women who drink excessively. It is unhealthy and unladylike behavior. Yet, you men are attracted to these women! American men are lost and confused for giving these women any attention. Go to a bar or club and nearly everyone is drinking. It does not have to be a habit when you socialize! Indeed, I've met social drinkers who informed me, after I refused to drink anything other than tonic water, that they don't really like alcohol that much, they just do it for the social benefits. This reminds me of my addiction to coffee, where I drink two cups a day merrily despite barely needing one in the morning. Speaking of coffee, it's going to be even more fun drinking it in one of these new virtue-promoting mugs below.
A woman who does not believe in her sexual liberation is more likely to want to depend on you as a man. She won't usurp your role and you will find great pleasure in seeing the return of your God-given instincts of manliness around this woman. She is a keeper. I have found that virgin or not, women with very few sexual experiences who aren't ravenous for meaningless male attention inspire this quality in their partners.
A woman who does not believe in her sexual liberation is more likely to want to depend on you as a man. She won't usurp your role and you will find great pleasure in seeing the return of your God-given instincts of manliness around this woman.
Click To Tweet
You Can "Imprint" Her Mind More Easily
One lamentation I've seen among red pillers is "she's not yours, it's just your turn," which I've spoken about in the video below.
These men most likely did not meet virgins; although, Richard Cooper does cite stories from his audience that even seemingly traditional women can end up cheating and being lured by feminist liberation. As I've stated already, her being a virgin does not guarantee relationship success. However, it's more likely that it will last.
When these men complain that "she's not yours, it's just your turn" they indicate that they wish she could be theirs. Why would that be the case? Another complaint men have is that there could be an imprint of every man that a woman has slept with in her mind forever. And yet another one is that promiscuous women are dreaming about the "alpha cock" they slept with in the past and you might not be able to compare. These are real concerns.
That's why women with many partners shame men who prefer virgins. They are insecure about their worth, yet they call the men insecure for wanting paternal assurance, a requirement for your relationship (open and polyamorous relationships therefore aren't good for masculine men). A man can't be as sure about paternity with a woman who has a past of sleeping around.
This is because she can't be "imprinted" as easily as the virgin. She has had many experiences shaping her sexuality, and deciding to be loyal is more of a conscious and moral decision perhaps in her case than a bodily one, as she is more open to new sexual experiences and non-monogamous arrangements. Of course, many women who were in serially monogamous relationships may have high sex partner counts without having any interest in non-monogamous relationships. But even then, this "polyamorous" woman chose the lifestyle because of six failed serial monogamous relationships in her past. If she had saved sex until marriage, maybe she would have been happier.
I don't think it's that the non-virgin feels there is "better" than you, but that she might get used to the idea of variety if she's slept around. This is why I have likened modern dating to consumerism. We have more fancy shiny toys and it gets harder to enjoy just one thing, and at the end of the day, we're actually less happy than we would be if we had less. This is why I don't think traditional relationships are oppressive to women, but rather better for long-term happiness.
A virgin on the other hand might get more obsessed with you more quickly since you are her first love. Her heart beats for you, pounds at the thought of you, and is wildly anticipating the tender moments of love and affection she shares with you and you only. By slowly building trust with this person and spending a lot of time with her before tying the knot (in a process known as courtship), memories and experiences that are non-sexual add to the bond that you two will form for life. And maybe that's why it was easier for our grandparents to stay married, build families, and just be happy.
Conclusion
If men only dated virgins, not only would promiscuous feminist types vanish and have no opportunities, society would have better morals too, because we wouldn't condone bad behavior. But the laws today condone terrible behavior and that's not OK. It's leading to a moral decline, and people are getting married less. It's time to stop complaining about modern dating, and consider an entirely new approach, and that is the approach of courtship, which of course, is anything but new.
---
Love my work and want to donate? Join my SubscribeStar or buy me a coffee on Ko-Fi. Your support helps me fight for traditional values while being censored by YouTube. You can also donate directly through PayPal.